Using Expanded Polystyrene (EPS) Geofoam in Road Construction Projects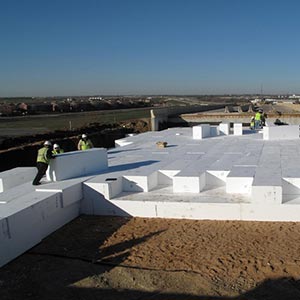 EPS Geofoam has been used as a geotechnical material since the 1980s. It makes up about 1% of the weight of the soil and less than 10% of the weight of other light aggregates. The load on the soil and adjacent structures is reduced due to the use of polystyrene foam as a light backfill.
EPS Geofoam is not intended to be used as a substitute for traditional flooring, it is intended to solve an engineering problem. Geofoam is easy to handle during construction, usually requires no special equipment, and is less susceptible to the elements, helping to reduce construction time and construction costs. It can be easily cut and shaped on-site, further reducing interference in the field.
EPACK Group is one of the leading manufacturers and suppliers of Geofoam in India. EPS Geofoam is only 1% denser than soil but is carefully controlled during production, resulting in an excellent ultra-lightweight aggregate that reduces stress on the substrate. Lighter weight reduces sag and improves stability in the event of a bearing failure or tilt. It can be manufactured as a design product that achieves the required compressive strength.
Advantages of EPACK Geofoam in construction
There are several design considerations for the use of EPS geofoam. Geofoam weighs 100 times lighter than earth and 30 times lighter than traditional fillers. Specifications and structural elements are factors to consider. This section describes the advantages and unique features of using polystyrene in construction.
Light
Power
Ease of circulation
Reduction of terms and costs of construction
Stability
Insulation
Buoyancy
Water absorption
Stability
The main advantages of EPS Geofoam
EPS Geofoam is versatile and can be used for many purposes in construction and landfills. Geofoam has high thermal resistance (R-value) and is a good insulator. The road surface covering Geofoam pavements may be warmer or colder than adjacent areas that do not have Geofoam. It is used to stabilize slopes, soft soil, retaining wall construction, airport runways, pavements and roads, storage tanks, stadium and theatre seating, bridge piers, insulation, and underground building segments to reduce seasonal heating and cooling demands.
EPACK Group provides eps geofoam for all your applications. Whether you are an architect, engineer, or building contractor, EPACK Group can help you make your next project a success. Our services and products are of the highest quality, we offer a quality guarantee. Contact EPACK GROUP for any construction project.