Expanded Polystyrene (EPS) Thermocol Sheets for Construction Projects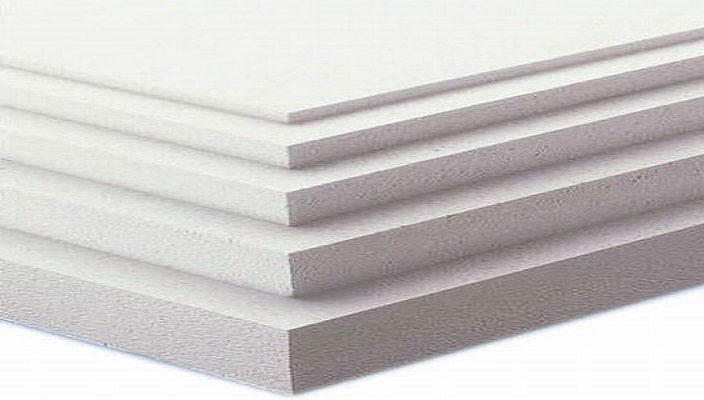 Expanded polystyrene sheets or EPS sheets have many applications in the construction, HVAC, and packaging industries. They can be used for hollow walls, duct, and floor insulation, gap filling, flooring, and packaging. High-density thermocol sheets are recommended for insulation and floor cladding. Normal-density sheets with good flexibility can be used for packaging.
Density:  It is manufactured from 8 to 50 kg/m3 and is manufactured in specific densities on request.
Standard Thickness:  From 6 mm to 1200 mm is possible, maximum thickness can be achieved in multiple layers by bonding.
Concrete reinforcement and expansion joints for concrete
EPS thermocol sheets are used as a concrete curing application. These sheets are used as a protective medium when the concrete is exposed to direct sunlight or windy weather. EPACK Polymers is offering standard-size sheets from 50mm thick for such applications.
Standard Size:  It can be cut to 2000 × 1000 mm or 2440 x 1220 mm or any non-standard size.
Density:  Generally, 14-16 kg/m3 sheets are recommended.
Cut strips of expanded polystyrene blocks are used as filler for expansion joints. A normal concrete surface tends to contract or expand depending on the ambient temperature. To protect the surface of the concrete and prevent any cracks in the surface, EPS sheets are used as an expansion joint during pouring. EPS sheets allow the concrete to expand or contract without cracking or damaging the surface. These piers can also be used in piers, bridge slabs, and precast elements.
Standard Size:  2000 x 200 x 15-20 mm. High-density EPS sheets are recommended for joint filling.
Density: 20-25 Kg/m3.
Applications of EPACK Expanded Polystyrene Sheets
Our EPACK thermocol sheets have virtually unlimited uses. These thermocol insulation sheets are widely used in the insulation industry, as pillow packaging and arts and crafts projects. Below are some great applications of EPACK thermocol sheets.
Concrete curing
Sound and acoustic insulation to reduce noise pollution
Widely used in the packaging industry
Roof insulation
Floor insulation
Wall insulation
Soffit insulation
Craft projects
Schools' kids use EPACK thermocol sheets for painting
3D wall panels and decorations
All kinds of art, lattice, paintings, and design
Benefits of EPACK Thermocol Sheets:
• It is lightweight, white in colour
• Fire retardant
• Smoke suppressive
• Water Proof
• Non-corrosive
• Chemically inert
• Excellent compressive strength
• Dimensionally stable
• Good physical, and thermal properties
• Environment friendly
• CFC, HCFC free
• 100% recyclable
• Ozone friendly